MEN, READY?
Beating Retreat 
The loud voice of the commanding officer echoes over the heads of the Guards' Massed bands who stand at attention, their instruments in hand. Ready to step off. An impressive three hundred (!) musicians, drummers and pipers in their different ceremonial uniforms and gear. 
When I plan to visit London, I try to be there during one of the Trooping The Colour ceremonies, commemorating the late monarch's official birthday, or, my favourite, one of the Beating Retreat ceremonies. All a colourful pageant of military music, precision drill and colour.
Annually performed on the Horse Guard Parade by the Household Division's Massed Bands, Pipes and Drums and Corps of Drums, later joined by The King's Troop Royal Horse Artillery and visiting military bands from other services worldwide.
The Beating Retreat is held on three Tuesday, Wednesday and Thursday early evenings. The massed bands march from Wellington Barracks (diagonally across from Buckingham Palace, near St. James's Park) along Birdcage Walk to the showground on the Whitehall end of the Mall. 
Before marching, I watch them line up outside the barracks terrain on the Birdcage Walk. This is about as close as I can get to them; I can walk with them for quite a distance. 
I stand on the sidewalk at the level of the five drum majors in their elaborate gold-thread state clothing, black riding cap, white gaiters over their shoes and, of course, their beautiful mace to be used to define movements and commands to the band members.
At that spot, I can specifically hear the sound of the first two ranks of the trombone players; 12 players per rank, mind you, I love it. The massive sonorous sound of these brass instruments vibrates in my stomach. It sends shivers down my spine.
It reminds me of my childhood when standing with my parents and brothers by the side of the road in the first row during the final parade of the Four Days Walking Event in summer. 
I was always impressed by the huge police horses preceding the music bands, clearing the way and gently pushing back the public standing on the side. Then followed the Bands, mainly with tall men in my memory, when they passed, bringing forth the intimidating, thrilling sound of their brass instruments and drums. Somehow it was always uplifting march music that urged you to dance.
I remember one famous moustached drum major throwing his mace very high in the air, walking, catching it precisely at the right time, and keeping walking as if it were the most ordinary thing. He never missed.
When the last band had passed, we went over to the confectioner's shop and were allowed to choose a pastry for a festive conclusion to a wonderful afternoon.   
"MEN, READY?" "MASSED BANDS! BY THE CENTRE! QUICK MARCH!" 
The drums play the rolls, and the bass drum beats the pace. Off they go. Ranks and lines precisely in sync. I can't get enough of that colourful musical ceremony. Now and again, I need to be in a fairy tale like this.
Why do I tell you this? 
First of all, to share the joy I find in being in London and immersing myself in the reality of that event. One can never feel what you feel at that spot when the band members raise their instruments and start playing and marching. 
The good memories from my childhood made me appreciate the colourful English musical ceremonies. The British are very good at this kind of thing. 
These memories remind me that enjoying the family's participation in a festive event is a sparkling jewel. 
The Quick March is another treasure. When I want to make a good walk and move the way a healthy lifestyle requires, I stream the Beating Retreat music from YouTube (there are many different marches) on my phone. Earbuds in, and I sync with the bands' Quick March tempo (5.5 km per hour / 3.4 mile per hour; activity score: 5 MET). 
It's a perfect way of healthy walking, not too exhausting, very doable, and, above all, free of charge. Forget the expensive, smelly gym. Just breathe fresh air and enjoy the music. It's as if the music lifts you and makes walking much more effortless. My advice is to walk alone when you march, with music in your heart. 
My other advice is to visit and enjoy London and see and especially feel the massed bands for yourself. Once back home, enjoy the Quick March yourself. Are you ready?
Warm regards,
Nelleke 
info@theuniquelifecreator.com
For other blogs and news click here: 
To homepage click here:
Interesting information:
The formal Trooping The Colour events are on Saturdays June 3/10/17 at 10.00 am.
The Guards' Household Division Beating Retreat 2023 is scheduled for 
July 4/5/6 (D/W/D) at 7.30 pm (British time); this is what you should watch.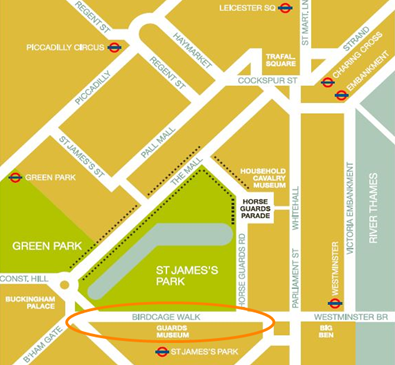 Blog 15.2
https://www.householddivision.org.uk/events 
https://www.householddivision.org.uk/trooping-the-colour 
http://www.trooping-the-colour.co.uk/retreat/
https://military-history.fandom.com/wiki/Trooping_the_Colour#cite_ref-5
The Massed Bands of the Household Division march to Beating Retreat:
2022: [10.42 min]  marches: By The Center, The Purple Pageant, Steadfast And True (In Treue Fest), and  Men At Arms
2019: [8.58 min]    https://www.youtube.com/watch?v=Jb1h0MP1bY4;  marches: Scarlet and Gold, Arnhem, and Normandy Veterans March
2018: [11.11 min]  ;  marches: Guards Armored Division, Birdcage Walk, Action Front, and Hands Across The Sea 
2017: [8.30 min]    https://www.youtube.com/watch?v=yOK2DKhz4W;  marches: Arnhem, 79th Farewell to Gibraltar, and Wellington March.
2015: [8.57 min]    ; marches: To Your Guard, Locke, Fridericus Rex Grenadiermarsch, and Sarafand
2013: [7.58 min]    https://www.youtube.com/watch?v=V1FyiYL7Els;  marches: Punjaub, The Watch Tower, and The Green Hills of Tyrol 
These marches together offer excellent walking support of nearly an hour in a Quick March tempo. 
Question to music experts: 
The standard Quick March's speed is 120 beats per minute with a 30-inch (76 cm) step. Are you familiar with music-pieces other than march music, with that exact beat, suitable for marching? Please let me know. I'll pass it on to my readers in one of my following blogs. 
Advised daily exercise (at least 5 days per week; preferably 7) for
adults (18 – 55 years): 
minimum 30, preferably 60 minutes of moderately intense physical activity (activity score: 4 to 6.5 MET). The Quick March's 5 MET fits in nicely.
Scientific evidence proves how listening to upbeat songs helps fuel your physical activity.